One way to improve your wealth is to observe how the rich invest their money, learn why, and potentially follow suit. University endowments are some of the worlds wealthiest institutions. Endowmentsinvest like many of the worlds wealthiest people. Both want income to fund their operations/lifestyles indefinitely. Both want outperformance in any market.
One of my tenants joined a massive private university endowment as an analyst, so I asked her about their alternative investment allocation (real estate, absolute return, private equity, etc). She responded, Its well over 50%. I was surprised because I dont know many regular folks who have that high of an allocation in alternatives. Maybe 5-20%, but certainly not 50%+.
She said, Theyve got no problem investing a majority of their assets in alternatives because they dont need the liquidity, have invested in alternatives for a long time already, are comfortable with the risk profile, and theyre only shooting for a 5% annual return.
I thought her response was interesting because it somewhat parallels my own liquidity and desired return situation. More than 50% of my net worth is illiquid due to my long-term property investments, private equity/fund investments, and pre-tax retirement accounts such asmy 401k, SEP IRA, andRollover IRA. If I could get a steady 5% overall net worth return every year, Id probably take it. Once you build a large enough financial nut, small percentages make a big difference. I dont need liquidity because I live way below my current income streams.
In this post, Ill be profiling Yale Universitys ~$24 billion endowment fund to see where they invest their money. Yale Endowment helped pioneer investing up to around 20% in real estate as part of a diversified investment portfolio. We can all add real estate to our portfolios much more easily and cheaply through real estate crowdsourcing platforms likeFundrise. Fundrise allows you to invest as little as $1,000 in an investment property around the country.
Lets see what else the Yale endowment has.
Besides being the home of the Skull & Bones secret society, Yale University also boasts one of the nations largest endowments led by David F. Swensen, PhD.
About 26 years ago, Yale became the first institutional investor and university endowment to define absolute return strategies as a distinct asset class, beginning with a 15% target allocation. Absolute return strategies is code word for hedge funds, as hedge funds look to provide a positive return in both bull and bear markets.
Who did Yale look towards first for absolute return strategies? Tom Steyers Farallon Asset Management based right here in San Francisco. Tom Steyer received his bachelors degree from Yale. Before starting Farallon in January, 1986, he worked at Morgan Stanley, Goldman Sachs in the risk arbitrage department under Bob Rubin, and Hellman & Friedman in private equity.
In 1987 Steyer approached David Swensen,Yales CIO, to manage a portion of Yales endowment for no fee to prove himself. After Farallons initial success, other college endowments followed Yales example. By then, hedge funds were now charging 2% of assets under management and 20% of the profits.
Its a small world because I literally see Tom, who is now retired from Farallon, at our tennis club every week. Hes been making political waves and might even consider running for President in 2020.
Whether youre a billionaire or a recent graduate, were all the same on the tennis court, so learn a social sport already. And for those of you stillspending lots of your money on a car, Tom drives a ~7 year old Honda Accord!
Here is historical performance data from the Yale Endowment Report. If you can consistently make 5% 10% on billions of dollars, youre going to do fine despite underperforming the S&P 500 during some years.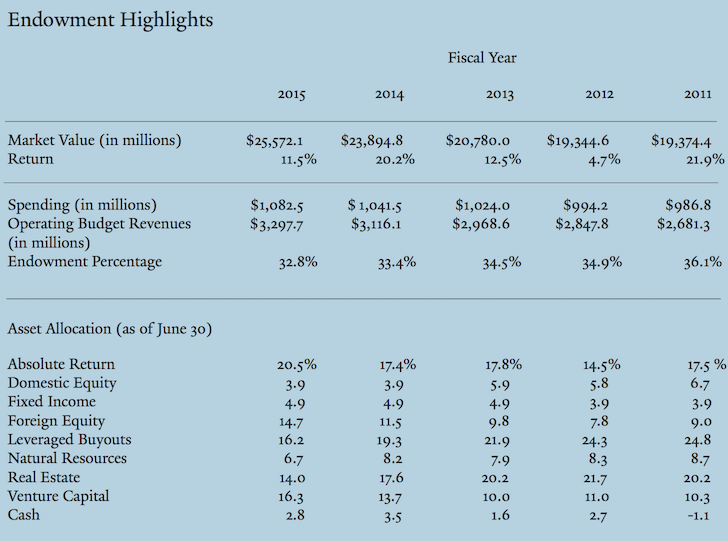 In addition to steady returns, notice the gradual increase in asset allocation to Absolute Return, Venture Capital, and Foreign Equity and the gradual decrease in exposure to Real Estate, Domestic Equity, Natural Resources, and Leveraged Buyouts since 2011.
Here is Yales 2019 planned asset allocation as stated in their latest newsletter.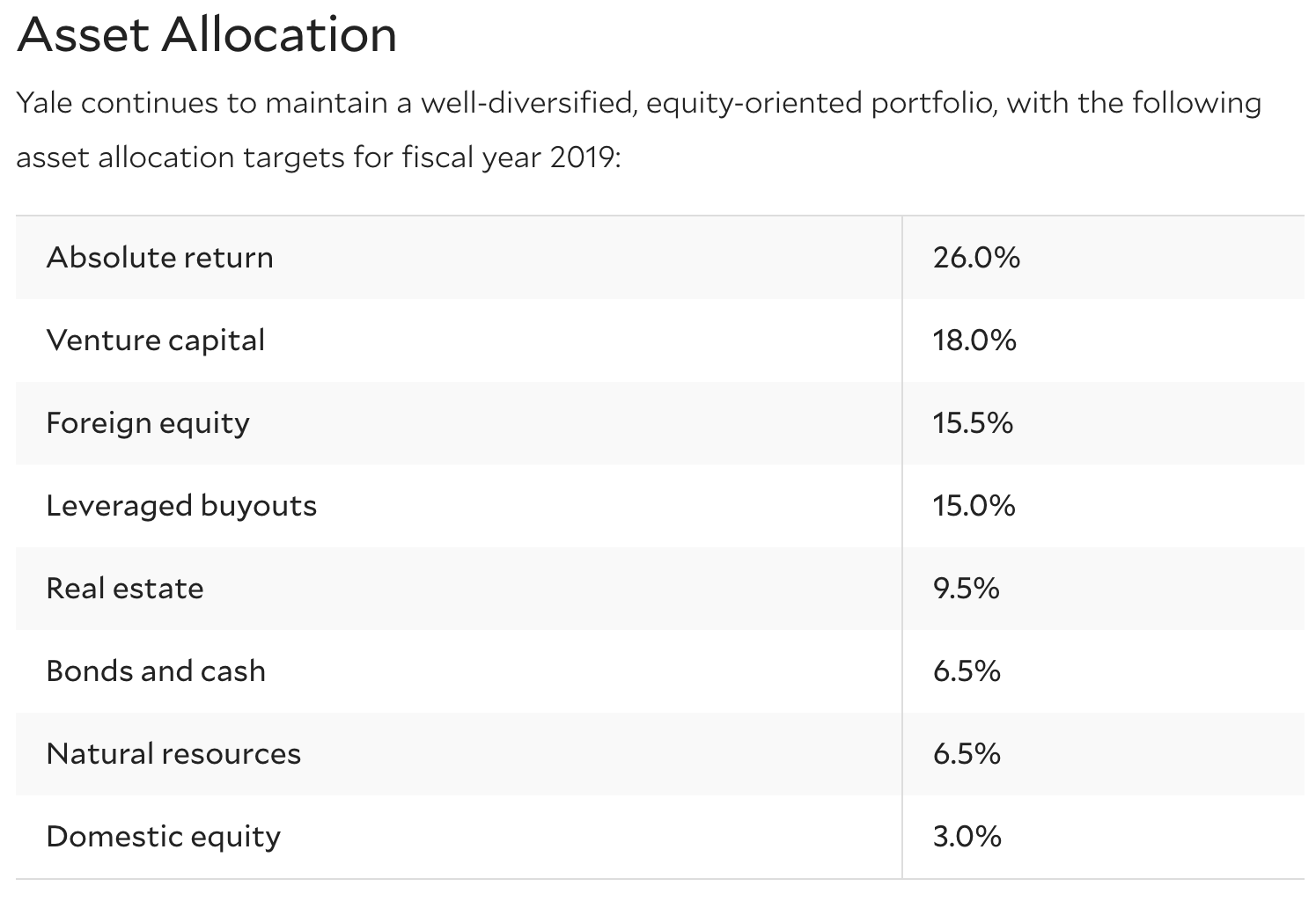 Yales asset allocation is so diversified compared to the typical investor who might only invest in stocks and bonds. The reason for Yales diversification is due to their size, access, experience, and time horizon.
Read what Yale has to say about their own asset allocation.
Over the past 25 years, Yale dramatically reduced the Endowments dependence on domestic marketable securities by reallocating assets to nontraditional asset classes.In 1990, over 70% of the Endowment was committed to U.S. stocks, bonds, and cash. Today, domestic marketable securities account for approximately 10% of the portfolio, while foreign equity, private equity, absolute return strategies, and real assets represent nearly nine-tenths of the Endowment.
The heavy allocation to non-traditional asset classes stems from their return potential and diversifying power. Todays actual and target portfolios have significantly higher expected returns and lower volatility than the 1990 portfolio. Alternative assets, by their very nature, tend to beless efficiently pricedthan traditional marketable securities, providing an opportunity to exploit market inefficiencies through active management. The Endowments long time horizon is well suited toexploiting illiquid, less efficient markets such as venture capital, leveraged buyouts, oil and gas, timber, and real estate.
Today, the absolute return portfolio is targeted to be 20 percent of the Endowment, below the average educational institutions allocation of 24.4 percent to such strategies. Absolute return strategies are expected to generate a real return of 5.25 percent. Unlike traditional marketable securities, absolute return investments have historically provided returns largely independent of overall market moves. Since its 1990 inception, the portfolio exceeded expectations, returning 11.2 percent per year with low correlation to domestic stock and bond markets.
Over the past two decades, the Endowment returned a cumulative 1,152 percent relative to the Cambridge median of 402 percent, an outperformance of 5.1 percent per annum.
I find it amazing that Yales domestic equity and fixed income only account for less than 10% of their overall portfolio. Most of us wont have such diversification because we dont have the resources or the expertise in investing in so many different asset classes. But I do strongly recommend following aproper net worth allocation by agethat incorporates real estate and alternatives as part of your net worth.
Please also check out anappropriate stocks and bonds allocation by ageas well if your investments are relatively straightforward.
Update 12/5/2016:Yales endowment earned a 3.4% investment return for the year ending June 30, 2016. The endowment value declined from $25.6 billion on June 30, 2015, to $25.4 billion on June 30, 2016, net of spending that supports faculty salaries, student scholarships, and other expenses.
Ever wonder what universities use their massive endowment funds for, especially private schools with their mind-boggling tuition rates? For Yale University, it looks like almost all income generated is spent supporting school activities, although Miscellaneous Specific Purposes and Unrestricted looks like a large chunk of the pie that might make people wonder.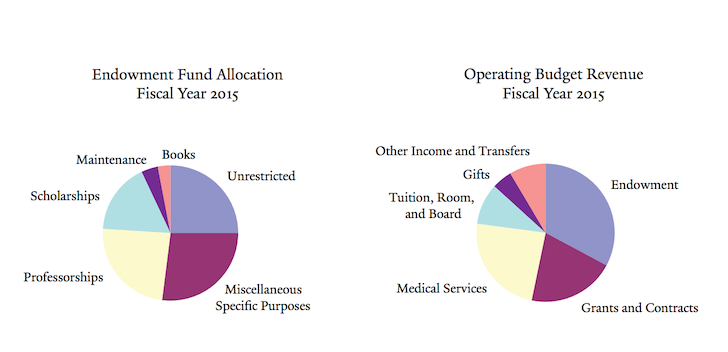 Individuals can easily replace Maintenance, Professorships, Books, Scholarships, etc with Housing, Food, Travel, Taxes, Charity, etc as part of their investment fund allocation.
I hope this post gives you a glimpse into how wealthy institutions and high net worth individuals invest their money so the rest of us can make better investment decisions. So many times I read negative commentary about alternative investments from people whove never invested in alternatives before. Its as if we automatically attack what we dont understand. Please keep an open mind with a focus on learning new things. Theres a reason why the rich are rich and tend to stay rich!
We can all easily build a portfolio of stocks, bonds and speciality ETFs through an online brokerage for way less than in the past with much better risk parameters. We can also buy REITs or physical property to create a similar asset allocation to the endowments. But so often we over-allocate towards property because our primary home tends to be so much more valuable than all our other investments.
Weve also got digital wealth advisors likeWealthfrontto manage our public investments for us for much lower fees than traditional money managers. In the past, wed need $1M in assets and have to pay 1-2% for such service. Slowly, but surely, new companies are further democratizing access to investments that were once accessible only to the rich. Its up to us to understand and take advantage.
A sample Wealthfront portfolio you can create for free comparing a 10 to a 2 new risk tolerance
Manage Your Money In One Place:Sign up forPersonal Capital, the webs 1 free wealth management tool to get a better handle on your finances. You can use Personal Capital to help monitor illegal use of your credit cards and other accounts with their tracking software. In addition to better money oversight, run your investments through their award-winning Investment Checkup tool to see exactly how much you are paying in fees. I was paying $1,700 a year in fees I had no idea I was paying.
After you link all your accounts, use theirRetirement Planning calculatorthat pulls your real data to give you as pure an estimation of your financial future as possible using Monte Carlo simulation algorithms. Definitely run your numbers to see how youre doing. Ive been using Personal Capital since 2012 and have seen my net worth skyrocket during this time thanks to better money management.
About the Author: Sam began investing his own money ever since he opened an online brokerage account online in 1995. Sam loved investing so much that he decided to make a career out of investing by spending the next 13 years after college working at two of the leading financial service firms in the world. During this time, Sam received his MBA from UC Berkeley with a focus on finance and real estate. He also became Series 7 and Series 63 registered. In 2012, Sam was able to retire at the age of 34 largely due to his investments that now generate roughly $200,000 a year in passive income. He spends time playing tennis, hanging out with family, consulting for leading fintech companies, and writing online to help others achieve financial freedom.
Author Bio:Sam started Financial Samurai in 2009 to help people achieve financial freedom sooner, rather than later. He spent 13 years working in investment banking, earned his MBA from UC Berkeley, and retired at age 34 in San Francisco.
Sams favorite free financial tool hes been using since 2012 to manage his net worth isPersonal Capital. Every month, Sam runs his investments through their free Retirement Planner and Investment Checkup tool to make sure he stays financially free, forever. Its free and easy to use.
For investing opportunities in 2019, Sam is most interested in investing in the heartland of America throughreal estate crowdfunding. Property valuations are much cheaper and net rental yields are much higher. There is a demographic trend towards moving away from higher cost areas of the country to lower cost areas thanks to technology.
Good dissection of the Yale model. As earlier commenters have said they have their world class resources to identify and exploit inefficiencies in alternate asset clauses. Because these good opportunities come to them, I suspect they rachet down publicly traded equities. Otherwise, they are not the same Asset class in my view because a mass consumer enterprise like McDonalds and a tech company like Cisco will have different fortunes and drivers. Yet they are both domestic equities. Being diversified among different sectors within equities provides adequate cover for most retirees. If you are able to live off dividends, even better as you are somewhat insulated from the market prices. I dont think all the complex alternative investments are needed for most individuals. Opaqueness and forced lock-in of these asset classes also introduces risks that Yale can mitigate, but not most of us.
Great article and comments. As a typical do it yourself retail investor with a moderate risk profile, Ive been very careful in exploring alternatives. I have invested in REITs with a decent return as a low cost option that has provided decent yields of 5-9%.
Great article and comments ! I always learn something from you and your readers. While I cannot add anything to the financial side of this article, I can add something about how schools like Yale use their endowment. My son just finished his 2nd year at a well known school in Massachusetts that has a large endowment.He will graduate in four years with zero debt and a small out pocket cost for fact, its cheaper for him to attend that school with their very generous financial aid package,than it is to attend the local state school here in San Diego ! These schools with big endowments do make the COA very reasonable for lots of students and their families 🙂
Thanks Sam, great post. Very interesting to see how the wealthy invest. Your post also got me thinking about another Ivy league school, right here in the SF Bay Area Stanford! Interesting to see what the two endowments have in common and where they contrast. The link is below (table 2, asset allocation):
Im interested to get your thoughts (or anyone elses) on Stanfords allocation vs Yales. I didnt realize so much of these were in private equity and hedge funds.
Excellent find! And it may or may not be relevant to my posts intro. 🙂
Can alternative investments be great wealth boosters? Absolutely. But as this years dismal hedge fund performance shows, actively managed isnt really a panacea for bearish markets. I think the other valid point is that most people just wont ever reach a point in their net worth, where alternative investments are even viable options. For most ventures, dont you need to be an accredited investor?
This is so enlightening. Thank you for posting.
Am I reading this correctly? Theyre targeting a 5% total return, but have been generally in the double digits for the last five years?
I am shocked at the very low allocation to domestic equities. But I dont necessarily disagree. For a while now, I have been pessimistic about US stocks. I think over the next 20 years, as baby boomers retire, they will be selling equities putting downward pressure on the market.
Ive recently invested in a venture debt fund backed by commercial real estate (senior housing) paying a fixed cash interest payment.
Im less inclined to buy property directly due to concerns about management and maintenance. Im not sure thats how I want to be spending my time and I think the cost to outsource is too high.
I have also had about 35% invested in foreign equities, although I wonder how well that has done for Yale. It hasnt been great for me.
One of the differences between Yale and ordinary investors is they have access to a wider variety of investments specifically, LBOs and venture capital. Im not sure how the average investor could replicate those asset classes.
Great post by Sam again, but I have to I agree with Financial Slackers last statement,
One of the differences between Yale and ordinary investors is they have access to a wider variety of investments specifically, LBOs and venture capital. Im not sure how the average investor could replicate those asset classes
Soo does the manager of the Yale Endowment, David Swenson. I initially was enamored with the Endowment investing model.until
1.) I read David Swensons book, Unconventional Success, A Fundamental Approach to Personal Investing. Bottom line, he emphasizes his competitive advantage of access to top-tier VC and PE that VERY few have access to. I certainly dont have the access.and unfortunately neither do the the lower tier hedge funds that would target an accredited investor like me and others on this site.. Their PR is greatbut they really dont have the access. Swenson goes almost 100% Bogel-headlow-cost passive indexes, 60/20/20 allocation with re-balancing, for most of us. Boringbut effective if you can do it
2.) I experienced the liquidity conundrum. I almost pulled the trigger on a 250K investment, but backed out after thinking whether I wanted this one locked up for 6-8 years. What if a good property came up to by with a great cap rate? I cant leverage a VC investment like I can a piece of already-owned property. And, although property is somewhat illiquid and has high transaction costs, it is not as illiquid as VC/PE Bottom line, I got second thoughts.
Yes indeed. Access and liquidity, two important variables everybody must consider.
One of my 7 year private investments is winding down in 2017. It was a forced investment in illiquid distressed real estate in 2009 as my bank invested at least half of our bad bonuses in it. Im so sad its ending, b/c its had a nice 22% IRR since. Its nice to have the final 70% balloon payment, but I dont know what Im going to do with it next year. But I guess thats why Im thinking about new investments now. The key is to always be thinking 1-10 years ahead.
A typical property median holding period is 7 years. Its funny that it corresponds exactly with a typical holding period for a VC/PE fund. I suspect most of us believe we need more liquidity than we really do.
I think most people would take 22% any time! Congrats on that one.
And on the liquidity front; you are probably right again here. I had not looked at the comparison with property holding. Recently read something about Tim Duncan getting crushed on hedge fund investment that he had to liquidate due to divorce. Lost millions. One of those stories that makes one pause.
Bottom line, if you believe in the investment and dont have liquidy needs for the money during the lock-up period, then May be a great thing.
Its good to see that endowed professorships are a nice portion of the allocation as investing in good professors is a plus as well as the scholarships. It would be interesting to see what the misc portion entails. The endowed chairs apparently need a minimum of 2 mill and professorships 1 mill in permanent endowment at some higher ed institutions.
Sam, awesome post and a prime example of whats so unique about your blog. The data dive, the unique topic, and the personal anecdote that keeps it real.
So heres the VTSAX post (well, sort of) that likely drives more than one of your readers nuts.
While its no doubt true that Yales uniquely large pile of money opens doors closed to many, theres also no doubt that you are right in suggesting that nearly every hard working personreading blogs like yours, anywayhas or will have the opportunity to chase returns with alternative strategies if he or she wants to.
Doing so should not be rejected out of hand. But years of my own personal experience and journey have led me to reject doing this and instead follow a very traditional path to wealth. And theres nothing unique about me or my personal experiences, believe me.
Everybodys biggest impediment to investment wealth is themselves. We are busy. In fact, most of us have an extremely active wealth accumulation strategy called a day job that takes up a lot of time and is our most valuable asset. Free time is full of enjoyable friend and family commitments, less enjoyable chores, and a few guilty pleasures (Jon Snow lives!). We think we will still have the time, patience and interest in being sophisticated investors across all styles, but frankly we cant even be truly relied upon to do something as simple as rebalancing our stock and fixed income positions once a year. Yale pays people full time salaries to work full-time imagining, executing and managing its investment strategies. We have to do it on our free time.
While Im personally too interested (weak willed?) in investing to simply buy Vanguards balanced index fund, set up an automatic deposit, and never look again, the fact is I would be nearly just as well off if I did currently, and may look back one day less well off for not having done so. It may be the most boring investment vehicle ever imagined, dreamed up by perhaps the most boring broker-dealer we would ever see even if we were given 100 lifetimes. And after expenses it laughs at the average hedge fund and kicks sand on its face at the beach in front of all the girls. (A young and confident investor here will think, Ah, well I will just be sure to invest in an above average hedge fund. To which I say good luck with that.)
Many traditional investors are also already diversified across asset classes, though I concede the obvious point we are not diversified within those asset classes like an endowment. But just for example, exposure to real estate beyond home ownership may be enviable, but just owning your own home has been a rising tide lifting boats for the middle class for decades, regardless of the bad wrap some try to give it (for both reasonable and extremely tenuous reasons). And you dont have to be an accredited investor to buy one. In fact, you are welcome to be a lousy investor and still fall into a pile of money later as a person who happened to buy a house back when they were cheaper.
Stepping outside of experiences personal to me and into my professional experience, I can also say lots of the rich do not invest the way Yale invests at all. In my experience, nearly all rich people are rich because of a business they built, because of their job, or because it was given to them. Except for the last class of rich, who are often unreliable stewards, their investments are vanilla, whether the strategy behind them is active or passive (individual stocks v. indexing). They purchase tangible things of value (collectibles of various types like cars and art) and real estate in their backyard (with the exception of a vacation house or two). They loan out money here or there. And thats about it. Of course Ive seen all other investments described, and truly cannot presently recall one instance where the folks with those investments hadnt been worth more in the years before they came to see me than they were the day we met.
Does John Snow really live? Man, what a spoiler if so! But its OK, as I figure he would.
Everything is rational long term in investing. There is a reason why some asset classes exist and continue to exist: because they perform well and fill a need. If they were terrible, then they would die. And of course, no fund in one asset class is the same. Everybody would love to get in the Sequoias of the world, but nobody but the already rich can.
We must talk to different rich people, b/c a large majority of people I know invest in alternatives. They are also alternative asset class managers themselves.
It would be interesting to figure out what the disconnect is between the rich I see and the rich you meet. My very wealthiest clients have typically been heavily concentrated in one stock, generally public though not always. And unwinding out of that wealth not particularly easy (or even desired, despite a private bankers earnest advice otherwise). Generational wealth is different, but for the truly successful client in that won the lottery regard the actual investments are often much more opaquely presented to me as it is less relevant to what Im doing. But my sense from you is that most of the folks you are thinking of are self-made. Maybe WA having no state income tax creates fewer incentives
My very wealthiest clients have typically been heavily concentrated in one stock, generally public though not always.
Interesting.what is the demographic of your clients? I think there will be difference between client on the street and client at the bank. Concerning heavy concentration, I have seen this also. I saw a client lay down more than half a Big B on one stock, I suspect a large proportion of their portfolio. Talk about conviction!
You make a good point though about how many people who are wealthy made their ships him through a business, inheritance, or something else. I am highlighting the wealthy who are financially sophisticated and have made money through investing long term. Yale university fits this description, and so do a lot of other wealthy financially savvy people I know who invest in this way. These are the wealthy institutions and people we should study if we plan to invest.
And if we want to learn how to become wealthy building an Internet business, for example, then we should study the wealthy who have created huge Internet companies etc.
if you are looking for alternative investments paying 5% or so why wouldnt you want to hold the note on some mortgages? this would be the long-term time horizon and give you monthly passive income. you could structure them to balloon at 5, 7, 10 years or whatever forcing the borrower to refinance with you. That would give you the option to reinvest in another note or get out. a highly rated borrower with plenty of collateral would make that return very rich for the low amount of risk involved. hedge funds and others have been in this space for years. just another thought. Hey my last post over on my blog I laid out my own portfolio allocation 65% stock, 30% real estate (includes my house), and 5% cash. interesting about Yale; those guys are killing it.
I think there is more opportunity to take advantage of mispricing in alternative investments and that is why the endowment has pursued that category.
I am not too surprised by the low allocation although I would expect it closer to 30%. There is a lot of competition with heavy hitters in the equities market and Ive seen large institutions drag down a highly liquid stock with just one trade, causing others to dump because of the hit to their portfolios. There is somewhat more exclusivity outside the popular markets
The Yale and Harvards of the world have access to private investment funds that no new investor can obtain access to, particularly marquee PE and VC firms new funds. Even if you wanted to get in today and were a billionaire or another endowment/foundation w/ billions it would be impossible. So the returns are great but next to impossible to reproduce.
Its truly amazing what only desiring a 5% return can get you. Especially if you have the enormous wealth to make it happen. Definitely something to think about and research.
I work for a public university that has $1.5 billion in endowments which puts it in the top 10% of universities/colleges. FY 2015 returns were 4.5% and the universitys goal is an annualized real rate of return of 5% net of fees, just like Yales. The investment strategy is allocated 80% for growth funds (public equities, hedged strategies, private equity), 12.5% for offsetting inflation (natural resources, real estate) and 7.5% liquidity (fixed income, cash). My universitys allocation for liquidity is similar to Yale but the allocation to inflation funds is 8% less than Yale. However, it doesnt appear there are investments in leveraged buyouts. Our university established investment corporation manages the investments and the investment director is hired with the expectation that he/she will meet the 5% rate of return or employment will be terminated. With that type of pressure, it wouldnt be difficult to take the risk and go for riskier investments. Due to the amount of money in play and diversification going on it seems that a 5% rate of return isnt all that unreasonable to attain.
You dont work for the University of Florida do you? How long does the director have until they prove whether or not they can hit that 5% real return? You could easily have a superior strategy fall out of favor for a few years until it comes back into favor. Changing leaders every few years sounds like the same up or out strategies that wreck personal portfolios. The best active strategies are highly constrained by asset size. Yale and other Ivy League portfolios have access to the top managers because of the brand cache (bringing in more clients bc you manage money for Yale), fees they can pay, time horizon, asset size, and alumni connections. Once the hedge fund selection makes its way down to the smaller endowments, how can you expect to outperform passive portfolios after fees long term? How can you be sure you are getting even average managers? Also, what if these hedge fund investments were truly marked to market, how would the performance results look? If I managed an endowment with a firm up or out policy, that does not encourage accurate accounting.
In Swensens book about the Yale investing style, he warns and worries about the prospect that all of the merely $500 million to $1 billion endowments out there will take their lead. He writes that the success Yale has achieved is very exceptiona